Assisted by industry experts and experienced startup founders serving as mentors, the aim of the weekend is to inspire innovation, creativity and growth in the startup world - for all. This is an important element as the event is not just for techies. Over 100 people took part - a record number for a Perth Startup Weekend and it's estimated that over 90% of those were new faces - a great achievement for spreading the word of innovation, small business and startup creation in Perth.
Event organiser Kate Kirwin said, "the great thing about Startup Weekend is that for many people, it's their first experience running a startup, and it brings together people from all walks of life who want to think outside of their comfort zone."
The intense program sees idea creation, business strategy and acquiring customers as a quintessential element to success. The weekend finished with the pressure-pitching of their newly founded 2-day old companies to an audience of over 100 people. The pitching, rather like Shark Tank or the Apprentice is the biggest challenge. You could have the best idea ever, but to convey your point clearly so it resonates with hundreds of listeners, potential customers and industry experts - that's the line between success and failure. Communication is therefore essential, and with this in mind, failure is taken as a lesson at the fun and energetic Startup Weekend; it's not a reason to quit, but a reason to push on and improve.
View image on Twitter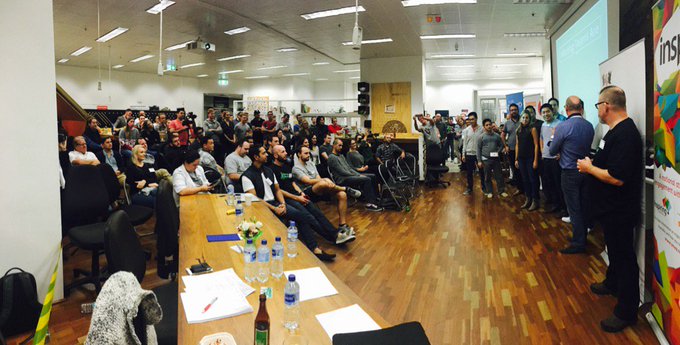 StartupWeekend Perth@SWPerth
And the winner is ChatM8! #swperth Well done everyone!
7:31 PM - May 1, 201618See StartupWeekend Perth's other Tweets
‍
In the end, the winning team came up with Chatm8 - a platform used to connect Australian tutors to students in China looking to learn English in conversational and real world situations. The idea, similar to Skype, conceptualised people to log on and chat to Australian English speaking tutors. With the time zone in their favour and a huge market potential with an increasing and great demand for more Chinese people to learn English everyday, the business idea received great praise from the Startup Weekend judges.
‍
Spacecubed@space3ed
A big shoutout to our awesome #SWPerth sponsors @CityofPerth @IPAustralia @ScitechWA @VocusUpstart @RACWA @beachamgroup @MeerTweet
1:12 PM - May 1, 20169See Spacecubed's other Tweets
‍
Events adding to, and promoting the sustainability in Perth's economy wouldn't be possible without the organisers, sponsors and venue hosts. Capping off a great weekend at Spacecubed, we would like to extend our thanks to the participants who, with the creation of some incredible startup and small business ideas, have set a great example to the Perth and the broader Australian community.
To find out how you can be part of the next Startup Weekend, or to join a network of over 700 industry experts, startup founders, small businesses and corporates, click here for more information.